I have never been told that I resemble a celebrity. That is until Lindsay Lohan sprouted boobs and developed an adult face. ALL the time, people at work, in the grocery store, at restaurants and in line at the pharmacy would ask me the same question: "Has anyone ever told you that you look like Lindsay Lohan?" A coworker even used to call me "Lindsay" on a regular basis. Initially, I was very flattered. She is a pretty girl and people thought I looked like her! Then she blossomed into a narcissistic, alcoholic brat and I just wasn't sure how I felt about people telling me how much I looked like her anymore. Regardless, it is hard to deny the resemblance between us and I have come to terms with the fact that looking like her does not make me like her...at least on a good day.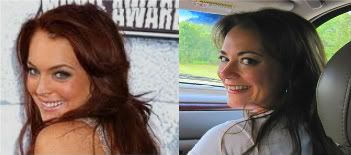 Kinda frightening, isn't it?
Then, a happy blessing appeared in the celebrity world. Her name is
Emma Stone
. You are likely to recognize her from the movies
Easy A, Zombieland
and most recently,
The Help
. The first person to tell me that I look like her is my friend Aimee. She was like, "I was watching the movie called
House Bunny
the other day. There is a girl in it and she looks so much like you. Her mannerisms and the way she talks is so much like you! Her name is Emma Stone."
I immediately jumped on the Google machine to find this Emma girl. I was delighted to discover that she is not only void of a sorted drug history, but that she is freakin' gorgeous! Now, before you start thinking I really do have the Lohan variety of narcissism, I actually had to do a handstand and cross my eyes before I could pick out any kind of resemblance.
I will let you be the judge. Please keep in mind that I am wearing nowhere near the amount of makeup that Emma is. Clearly, she is a Hollywood starlet and I am...well, me- an average Minnesota girl. Which of course means her beauty and glamor factor is much higher than my own. So, try to look past all that and see if you can find some similarities:
So, what do you think? I am still not totally convinced I resemble her in a major way. However, it was a good excuse to have some fun with trying to match up our pictures!