When you are a kid, Christmas is the most magical time ever. It is full of anticipation, excitement, mystery and wonder. I don't think I can remember feeling more excited about anything in my life at that age. The only thing that came close was the excitement I felt the year I had my eighth birthday party at the roller-rink.
I see the same joy in my nieces faces and it warms every single cell in my body. This year was no exception. However, this year, I also got to watch the dreams of two five-year-olds shatter like precious china hitting a marble floor. Yes, it is true. I publicly admit that I nearly traumatized my poor little nieces and made Christmas a life long PTSD experience of heart break and disappointment.
My previous blog details a list of the things I love and hate about Christmas. I was talking about the blog with my sisters at Christmas and they suggested I read it aloud to everyone. I obliged but felt a little nervous at the same time. I was so focused on not screwing up that I wasn't really paying attention to exactly what I was saying. However, I realized something was not quite right when I read number eight on the list because my nieces, who were giggling and commenting the whole time I was reading, suddenly became silent. I turned to look at them and what looked back at me was something that will be forever burned into my memory. I saw the innocence of two little girls die a horrible death in front of me. Their stark white faces were etched with betrayal and I swear I could see the last sparkle of holiday magic burn out in their eyes.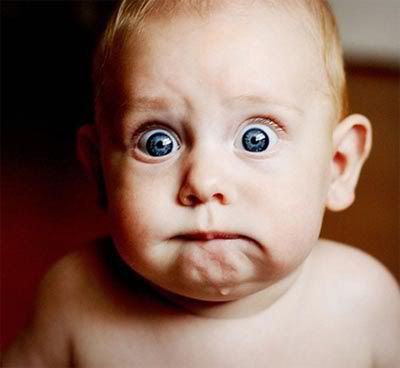 Picture this face on my nieces. Pretty much the exact look.
I wondered what in the world I could have said to cause this reaction. So I read number eight again to myself: "Reliving the day I found out that Santa isn't real." The first thing I did was say the word "Fuck!" really loudly and watched as their jaws dropped even further open. Then I slapped my hands over my face. Oh. My. God. I had done it. I had achieved my Everest fuck up. Not only had I brutally murdered their Christmas joy, I polluted their pure, sweet ears with dirty profanity. I scrambled to some how smooth things over. "It was just a joke!" I said looking around the room, nodding "Right, Everyone?" Praise be to every deity that I've ever heard of that they seemed to buy it and we were able to quickly move on to another subject.
The whole day, I wrestled with the doubt that they fully bought it. I asked my sister if she thought they did and all she said was, "They better have!" She was pissed that I nearly took away a huge source of behavioral blackmail from her. She would no longer be able to threaten them with having Santa's number in her phone and saying she will call and tell him how naughty they were being if they didn't listen to her. Can't say I blame her. I mean, what would she do then? Tell them she has Jesus on speed dial? Exactly.

I am happy to report that my nieces still live in the bubble of holiday bliss. Santa is still alive and well in their hearts and minds. It was a near miss of a plummet into a dark place. However, this year will always be remembered as the the year that my dumb ass almost ruined Christmas. I know I will never be able to live it down and expect to be receiving loads of coal in my stocking for years to come.